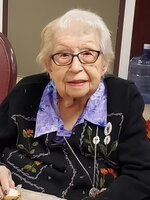 Barbara A. Alkinburgh
Mrs. Barbara A. Alkinburgh, 97, formerly of E. Main Street, Nelliston, New York died Monday, September 5, 2022 at St. Johnsville Rehab and Nursing Center.
Born on August 22, 1925 in Nelliston, NY, she was the daughter of Daniel Lupo and Ruth VanAvery Lupo. She was a graduate of Little Falls High School, Class of 1942 and was a life long area resident.
Mrs. Alkinburgh was the Postmaster of the Nelliston Post Office for 20 years, retiring in 1986. Prior to working for the US Postal Service she was employed at the former Luxuray in Fort Plain for 23 years.
She was the Village of Nelliston Historian and was an Elections Inspector for the Town of Palatine, District 3.
She was of Protestant faith.
Barbara was a member of the National Association of Federal Employees, the Nelliston Community Group, member and treasurer of the Nelliston Activites Council, the National Association of Postmasters of the United States, the Mohawk-Hudson Chapter of the American Society Dowser, the Southern Tier Gas Engine Association in Maine, NY, the Mohawk Valley Power of the Past Association in Westmoreland, NY, the Coon Hollow Engine Club of Fonda, NY. She was former membership chairman of the New York State National League of Postmasters and was past president of the Utica Sectional Center Postmasters Association.
On October 14, 1943 in Little Falls, NY, she was married to Homer J. Alkinburgh. He preceded her in death on May 10, 1998. She was also predeceased by her parents; grandson, Jeffrey Nellis; and son-in-law, David Whitlock.
Mrs. Alkinburgh is survived by her son, Larry J. Alkinburgh (Marion) of Nelliston, NY; daughter, Loralee Whitlock of Nelliston, NY; grandchildren, Darlene Hemstreet (Rick), Sharon Steinhardt (James Graham), Noah Alkinburgh (Wendy), Dale Alkinburgh (Sarah); 10 great-grandchildren; 2 great-great-grandchildren.
A graveside service will be held on Saturday, October 1, 2022 at 11:00AM at Fort Plain Cemetery. A celebration of life will follow at Noon at Valley Alliance Church, 85 Main Street East, Palatine Bridge, NY 13428.