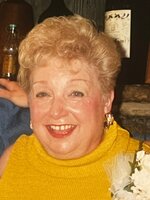 Janice M. Dean

Mrs. Janice A. Dean, 85 -loving mother, grandmother, great-grandmother, and friend, of Little Falls, NY, passed away peacefully on October 4, 2022, surrounded by her loving family at the St. Luke's Home, New Hartford, NY. She was born in Little Falls, NY, on August 9, 1937, the daughter of Gordon George Miller and Mary Shaver Miller.

Janice was a graduate of Little Falls High School Class of 1955, graduating with honors. She later graduated from MVCC and St. Elizabeth's with the designation of Medical Assistant. Janice started her career in the valley, working in many insurance agencies while being a professional model in Syracuse. Following this, she was employed by Salem State Teachers College in Salem, Massachusetts. She ended her career after over 35 years of service as the Director of Material Management at the Little Falls Hospital, where she gained many dear lifelong friends and the nickname the "Blonde Bomber."

On February 3, 1973, she married the love of her life, Edward K. Dean, with whom she spent 34 beautiful years. The depth of their love and devotion to each other was magical.

Janice was a bright light in this world, always smiling and laughing. She had a fantastic fiery sense of humor that would often push boundaries. She was known for a twinkle in her eye and a smile that would light up the room. Her friends and family will remember her for her love of entertaining, generous hospitality, and attention to detail, excellent meals never shy of butter, and bottomless drinks. Her ability to make friends was known by all, as Janice had a kind word for everyone she met and brought comfort to those she knew. She loved shopping and gift giving; shoes, purses, and accessories; fancy china, holidays, and decorating; and spending time at the theater. Janice loved the seaside, which she traveled to yearly, making many cherished memories in Rockport, Massachusetts.

Janice enjoyed being active in her community, including a long-time sprite club member, a member of the Ladies Aux. of the Little Falls Elks, a proud past president of the Little Falls Mothers club, a member of the Little Falls Hospital Guild, a member of the Ladies Aux. of Little Falls Moose, served as a notary, and served as an officer of the Central NY Hospital Association. She was raised as a member of St. Paul's Universalist Church.

Survivors include her two daughters; Debra Marshall of Dolgeville, Donna and her husband Jack Hull of Little Falls; Stepson Kirby Dean of Maryland; 7 grandchildren, Alex Marshall, Andrew Marshall, Hanna and Josh Valentine, Freddie and her husband Stephen Prestigiacomo, Nolan Hull and Gus Hull, Alex Dean; 5 Great Grandchildren Aiden, Luke, Kate, Benedict, Sevi. She was predeceased by her former husband (m. 1958) David A. Dunn, her son Dennis Dunn, her brother James E. Miller, her first cousin Margaret Bialock, and her beloved husband Edward K. Dean.

The family invites friends and relatives to visitation from 10:00-11:00 AM on Saturday, October 15, 2022, at the Chapman-Moser Funeral Home, Little Falls, NY, with a remembrance service following at 11:00. Immediately following, burial will take place at Rural Park Cemetery. In lieu of flowers, please consider memorial contributions to St. Jude's Children's Hospital, 262 Danny Thomas Place, Memphis, TN 38105.
Anyone wishing to leave a condolence online please do so at www.chapmanmoser.com