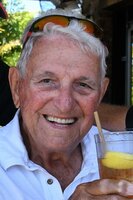 Daulton A Sherman
Mr. Daulton A. Sherman, passed away on October 19 2022, surrounded by family. He was born on July 17, 1930, in Little Falls, NY, the son of the late Edward H. and Helen Abbott Sherman.
From 1952-1954 he served his country in the US Army during the Korean War.
He was a member of the First Presbyterian Church of Little Falls, the Little Falls Elks Lodge #42, the Little Falls Civic Club, he was an avid golfer.
Daulton was predeceased by his wife Irene, companion Readoth Young, brother Carroll E. Sherman and his granddaughter Jennifer Quackenbush.
Survivors include his sister Karen Grissom, children John (Sue) Sherman, Cherie (Gary) Glosser, William (Kozue) Sherman, Linda (Bob) Quackenbush, step-children Elaine (Richard) Notargiacomo, Ray (Dodie) Glende, Roger Young, several grandchildren, great grandchildren, nieces, nephews and cousins.