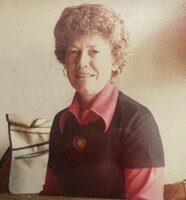 Ruth Reed
Mrs. Ruth A. Reed, 92, of N. George Street Rome, NY died on February 6, 2023 at Bethany Gardens Skilled Living Center, Rome, NY.
She was born in Stoneham Massachusetts, the daughter of Wilfred Dunn and Alice Vetta Dunn.
She was predeceased by her parents, and first husband, Vladimir Benishin.
Her 2nd Husband, Donald Reed of Rome, NY survives her.
A service is being planned for the spring, and will be announced at a later date, under the care of Chapman-Moser Funeral Home, 42 N. Ann Street, Little Falls, NY 13365.
A Full Obituary will follow at a later date, which will encompass all the loves of her life, and her many accomplishments.